Chapel Hill Tire is a family company in more ways than one
Here at Chapel Hill Tire, treating each other like family is more than just marketing jargon — it's a way of life that guides everything we do. And a lot of that dedication to treating people right comes straight from the company's patriarch, Al Pons, and his desire to pass it down to the next generation of his family.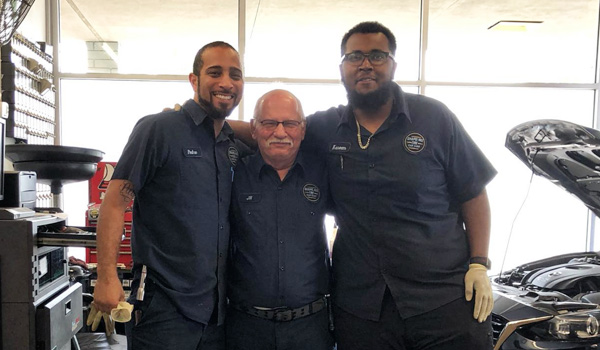 The trouble is, you'll find advertisements everywhere saying that all these businesses treat their staff like family. So what does that really mean in this day and age?
That's why we'd like to take a minute here while we have your attention to explain a little bit more about how we think of our Chapel Hill Tire family, across all of our locations.
We Choose to Care
In our personal lives, choosing to care can take a lot of different forms: Laying out our kids' clothes the night before, making a nutritious breakfast for our families, and setting aside quality time on the weekends all make a difference — and help to keep our families and communities working in harmony.
The same is true in business, just on a different scale. When we think about choosing to care, it starts before anyone even walks into the store in the morning. Have everybody's scheduling needs been taken care of? Does every employee have an opportunity to advance to a fulfilling and meaningful career?
But probably most important of all: Are we treating each other like we'd want to be treated? The Golden Rule is as relevant now as it's ever been, and we try to live that value in our personal and work lives here at Chapel Hill Tire. To us, that's family.
It's About Relationships
No matter how successful a business might be on paper, it really doesn't mean as much if they aren't contributing to making real, lasting relationships in their communities.
For us, that starts with the amazing people we hire at each of our Chapel Hill Tire locations. People like Todd Ward, who has been working with us for over 35 years now, or relative newcomer Terry Govoreau, who says "I'm grateful every day that I walk into this place and see the level of care that everyone treats each other with."
Empowering those people with our Core Values gives them the tools necessary to create deep relationships, both with their coworkers and with the folks who come in to get their cars worked on time and time again.
In short, we want to journey together and grow together — all while staying accountable to ourselves, to each other, and to our larger communities. And if we've done all of that right, we hope to include you as a part of our big Chapel Hill Tire family so that we can all work happy and drive happy together well into the future.