Chamber of Commerce brings community leaders together for ribbon cutting ceremony
Chapel Hill, NC Though their Apex location opened in January of 2021, Chapel Hill Tire had to wait for the pandemic to ease before they could celebrate the event. On June 2nd, as business began to return to normal, the company teamed with the Apex Chamber of Commerce to hold an official ribbon cutting.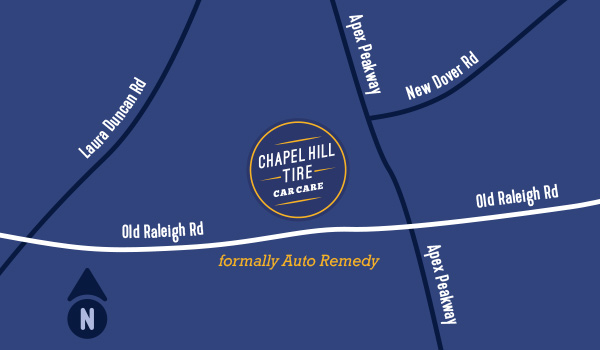 "It was great to get together with fellow Chamber members and community leaders," said Marc Pons, who serves as president of Chapel Hill Tire. "We have been serving people in the Triangle since 1953, most of that time in Chapel Hill, of course. This is our third location in Wake County. We set up shop at Atlantic Avenue in Raleigh in 2018, and in Crabtree Valley Mall in 2019. People in this area have really responded well to our super-convenient approach to high quality, professional car care. If you like, our free pick up and delivery service will pick up your car at your home or office, and return it to you when the work is complete. You can also drop your car off at our shop, and use our free shuttle to go where you need to go. If you'd rather wait in our lobby, we offer free wifi, drinks, and snacks to make your stay as pleasant as possible."
In addition to the ribbon cutting, Triangle-area non-profit Wheels4Hope held a car blessing event. "Sometimes," said Pons, "for a family or an individual who is working to get through a difficult transition, a safe, reliable car can make all the difference. Wheels4Hope is dedicated to providing those vehicles to people who need them. Area residents donate their old cars. We donate the labor required to get them into good running condition, and other corporate sponsors, individual donors, and local churches provide the funds required to purchase the parts. It's a real neighbor helping neighbor effort, and for us, it's a great way to use our talents to make our community just a little bit better."
Formerly home to Auto Remedy, Chapel Hill Tire's Apex shop is located at 1101 Old Raleigh Rd. You can make your appointment online at chapelhilltire.com or just call the store at (919) 387-7270. "If you've never brought your car to us before, please go to promotions.chapelhilltire.com to take advantage of our $20 discount for first time customers," said Pons. It's good for any service except state inspections – and yes, if you're a long time Auto Remedy customer, you still qualify as a first time customer of Chapel Hill Tire.