In It For The Long Haul
Meet Presleigh Anderson, she hopes to know you for many years (and quite a few cars, too!)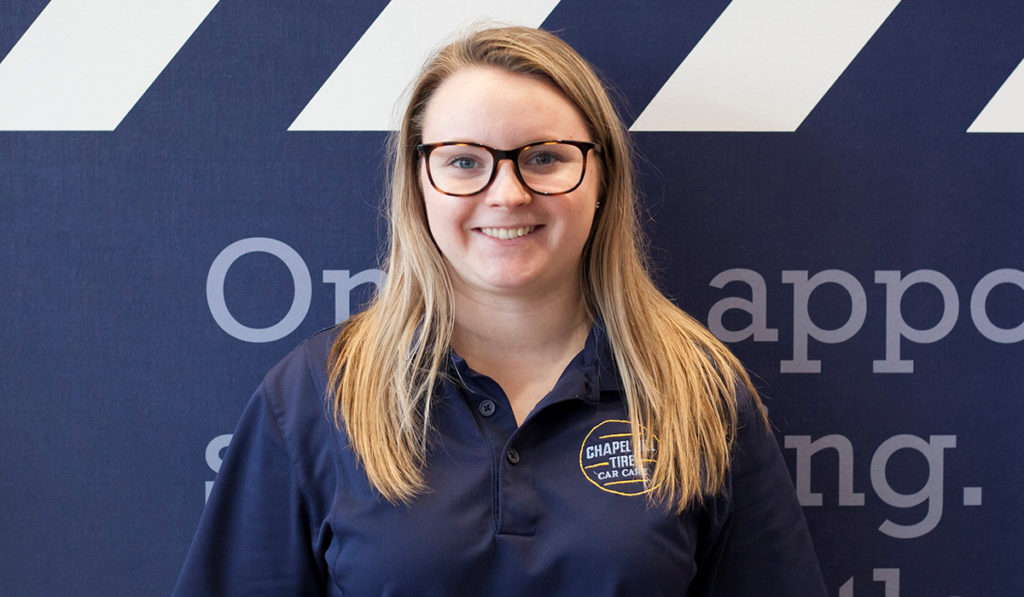 Presleigh Anderson had been a Service Advisor at Chapel Hill Tire for a little over a month when she found herself saying something unexpected for any 19 year old, "This is the place I want to retire."
A few years down the line, Presleigh still stands by that.
"I love where I'm at, I love the people I work with," Presleigh said. "I want to retire here." 
And Chapel Hill Tire would love to make that wish a reality. "She is a model worker who has stood out from the very beginning of her career here," said company president Marc Pons. 
"Presleigh came to us through a partnership with Wake Technical Community College, where she had been in the Automotive System Technology program. Her drive and talent impressed Jerry Egan, the director of our program with Wake Tech."
According to Pons, Egan told him, "I've got somebody I think is really special."
Just as Presleigh stood out to Chapel Hill Tire, she was already interested in the values-driven company after noticing them at career fairs. 
"The values drew me in," Presleigh said. "They were easy to read, to the point, and involved both the company and the employees."
For a young professional looking for a place to start their career, that made all the difference. 
Pons, who values the energy young workers bring to Chapel Hill Tire, said the company's values attract millennials because they show that we're a family, a place where you can belong. And Presleigh experiences that everyday. 
"I didn't appreciate the values as much until I saw everyone actually living them," Presleigh said. 
And for Presleigh, living the core values was already a part of who she was. Winning as a team. Striving for excellence. All of these stand out to Presleigh as essential qualities of any good person. 
"The easiest way for me to live our values," said Presleigh, "is to genuinely care about our customers and my team."
And that genuine caring among team members is a two-way street. Compared to her past experiences that pushed her away from the technical work she originally wanted to do, Chapel Hill Tire helped her look at her strengths and find the best place to start her career. 
"They were all open-ears and they appreciated my view," Presleigh said. "Instead of judging me, they helped me figure out where I want to go."
Since then, Presleigh has been promoted to Parts and Service Coordinator, a position where she finally gets to show off her technical knowledge and skill. 
Chapel Hill Tire continues to support Presleigh's professional growth by paying for her to take accounting and business classes at Wake Tech. 
"We have to invest in our people," Pons said. "Giving people more opportunity is part of how we live our values. Our partnerships with local community colleges is one of the ways our people gain the knowledge to take on new roles, and so we continue to expand those, as well." 
And for Presleigh, Chapel Hill Tire supporting her through more classes is just another reason she knows she's in the right place. 
"I look at this as my career," Presleigh said. "I see my future as striving for excellence."
Presleigh's goal is to one day have a Chapel Hill Tire location of her own and be able to support her own staff the way Pons and the whole team has done for her. 
And, no matter how much CHT expands, Presleigh is confident that the core values will continue to make it feel like family. 
"With the amount of good people that are out there who would fit in here," Presleigh said. "It'll be a really big family."