Seventy years ago, the world was a very different place. The Hudson Hornet was the most popular car on the market, "How Much is that Doggie in the Window" was climbing the Billboard Top 100 charts, and television sets across the country were tuning in to I Love Lucy to see the birth of Little Ricky.
Just about everything has changed since then — but Chapel Hill Tire's commitment to car care excellence has not.
"It's an honor to lead a business that's been around for this long," Says Chapel Hill Tire President Marc Pons. "We're drinking from wells we did not dig, and that's the biggest part of our success."
To celebrate 70 years of family-owned service, we're throwing a big birthday bash!
The "Tires & Tunes: 70th Birthday Bash! A Chapel Hill Celebration at Midway" is destined to be the best party of the summer, and we're thankful to be co-hosting it with another legendary Triangle area business, 97.9 The Hill WCHL, which is also celebrating nearly 70 years of serving the Triangle.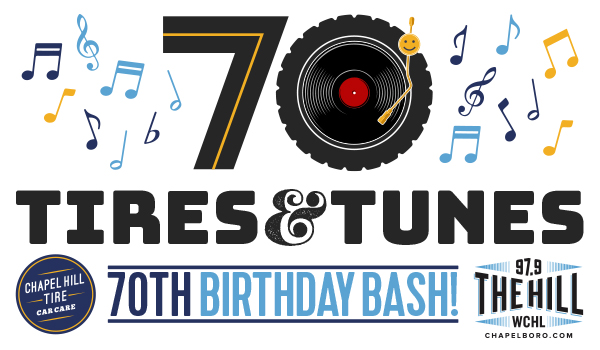 The party will be happening from 2 p.m. to 6 p.m. on Saturday, Aug 26th on and around North Graham Street, just north of the intersection with W. Franklin Street. There we'll have live performances by two popular local artists, Jesse Fox and The Shoaldiggers, as well as a street arts & crafts market, show cars on display, and car washes offered by Chapel Hill Tire.
There will be plenty of food and drinks from local bars and restaurants as well, including Al's Burger Shack and IP3, The Baxter, Lapin Bleu, BeerStudy and Local 506. Many local businesses on N. Graham and W. Franklin will be open for business and offer in-store activities and special sales as well, giving you plenty of options for how to celebrate with us.
We'd love it if you'd join us between bands at 4 p.m. as well, where we'll be singing Happy Birthday to Chapel Hill Tire and 97.9 The Hill WCHL, with Chapel Hill Mayor Pam Memminger recognizing Chapel Hill Tire and WCHL past and current personalities, Marc Pons, Aaron Keck, Ron Stutts, and many others.