Top vote-getter in our 12 Days Of Kindness Campaign serves people who come to our community from around the globe
When we launched our 12 Days Of Kindness campaign, the team at our Cole Park shop chose The Refugee Support Center, a partner agency of Chapel Hill Tire. Founded in 2012, this volunteer organization aids refugees in their transition to a new life in our community. Offering a range of services, better access to resources, and skills training to promote self-sufficiency, the Center is an excellent example of what it means to spread kindness and positivity.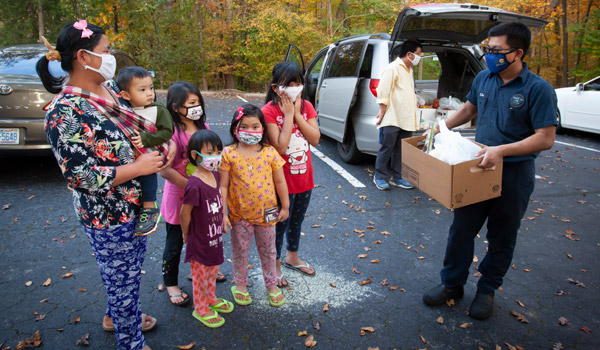 Located in Carrboro, North Carolina, the Center serves roughly 900 people each year, most of whom come from Syria, Burma, and Democratic Republic of Congo. Fleeing persecution, violence, and war, they are placed with resettlement agencies that have cooperative agreements with the Department of State, as soon as they arrive in the United States. These agencies work to provide reception and placement services; however, they are phased out after three months.
That's when the Refugee Support Center steps in, offering assistance on an as-needed basis. Beyond facilitating refugees' transitions to new lives, the Center advocates for their needs and interests while helping them maintain their cultural and ethnic identities. Plus, the Center acts as an educational resource for the community to help foster understanding of our new neighbors.
For their act of kindness, the Cole Park team went grocery shopping for the folks at the Center. But that was just the start. Through the efforts of Center volunteers and our Cole Park team, the Center received almost 5,000 votes in our 12 Days Of Kindness challenge, earning a $3,000 donation from Chapel Hill Tire.
"We are over the moon to have won first place in the Chapel Hill Tire 12 Days Of Kindness," said the Center's director, Flicka Bateman. "Every cent of the prize money will be used to help refugees in our community. Thank you to our supporters for voting for us, to our refugee friends for inspiring us every day, and to Chapel Hill Tire for holding the contest and encouraging us all to perform acts of kindness."
We are proud to support the Refugee Support Center and share their mission of helping local refugees transition to a new life. Please visit the Center's website to learn more or to volunteer. 
We'd like to offer a big thank you to all participants in the 12 Days of Christmas. Whether you performed an act of kindness, voted on which charity moved you the most, or spread extra cheer this holiday season, we are truly grateful. We move into 2021 with a great sense of community and appreciation!