Anyone with a pet knows that family can come on four legs just as easily as two — and that an animal's unconditional love and affection is one of life's most amazing blessings.
That's why organizations like the Wake County Society for the Prevention of Cruelty to Animals (SPCA) are such an important part of our communities — and why Chapel Hill Tire is so happy to be able to support their mission "To transform the lives of pets and people through protection, care, education, and adoption."
But too often, animals outside of safe and loving homes are barely getting by. And without our help, they could be in real danger.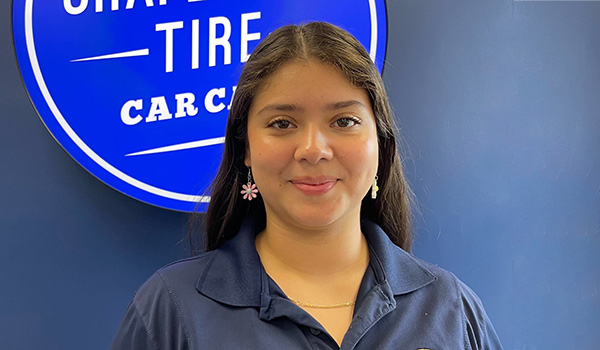 Emely Bernal, one of our Service Advisors at the Atlantic Avenue location, really took this mission to heart. When she and the human resources team set a goal of finding a way to help their community, the path forward became obvious:
"A lot of us love animals and have pets at home, so I felt like the SPCA was a perfect fit. On top of that, they're a no-kill shelter, with values that really match up with what we do at Chapel Hill Tire."
To be of best help to this invaluable organization, Emely first took a trip to their Garner location. "Going to their facility in Garner gave me such a pleasant feeling," says Emely, mentioning that the way staff treated her and the animals was warm and kind from the moment she walked in.
That gave Emely a great idea: Knowing how many of her Chapel Hill Tire family members loved their own pets, why not organize a way for everyone to be able to donate what the SPCA needed most?
"I reached out to them and asked what items they were most in need of," says Emely. After that, she put a plan in action for marking lists of those items and putting out donation boxes at all of our Chapel Hill Tire locations.
Keeping these boxes out for about three months gave plenty of opportunities for our Chapel Hill Tire teams — and customers — to fill them up with donations. And it was a big success: At Emely's location on Atlantic Avenue, that box was filled up within just two weeks!
By the end of July, Emely gathered up all the donations to take over to the Wake County SPCA. They were incredibly grateful for everything we could provide, and it was a real reward for Emely to meet some of the animals she had helped through her initiative.
"I hope this is my first time of many doing something helpful like this, and I'm so grateful to everyone at Chapel Hill Tire for helping me to achieve my goals."
If you can help adopt, donate, volunteer, or foster, please do reach out to the Wake County SPCA through their website!