Five hundred thousand miles: That's about 200 trips from New York City to Los Angeles, a solid eight trips around the entire Earth, or just over enough miles to make a round trip to the moon and back.
It's common for a car or truck to rack up a couple hundred thousand miles in its lifetime. But a half a million miles? That's downright amazing, and something well worth celebrating.
Allison Alger decided to do exactly that for her beloved 1999 Toyota Corolla, in a multi-day event combining celebrations for Veteran's Day and her car's momentous milestone, with crowds of up to 100 revelers visiting from all over the country.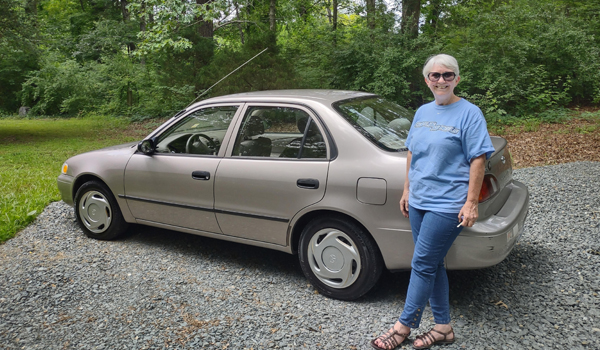 The Corolla's journey with the Alger family began back in 2005, just after they had moved back to the U.S. and settled in the Triangle. Originally, they were looking for a car for their 15 year old son. And it just so happened that an old friend of Allison's, her former roommate from the Navy, was getting ready to sell her Corolla and trade up to a Volvo.
"Normally you don't want to buy from friends," says Allison, "You know, you don't want to put any stress on your friendship if there's something wrong with the car. But I knew her, and how well she took care of her vehicles."
So the Algers bought the Toyota right away — not knowing that pretty soon, their son would hit his growth spurt and shoot up to 6 feet 3 inches tall! Having quickly outgrown the Corolla, Allison decided she would make it her vehicle instead.
In the intervening 20 years or so, that car has taken Allison faithfully back and forth to her job at the Pentagon in Washington, D.C., week in and week out. And just as regularly as she's driven back and forth to Virginia, Allison has been taking the Corolla to Chapel Hill Tire for routine maintenance.
"There's only one major part that's ever had to be replaced," says Allison, "the radiator. And wouldn't you know it, it went out when I was on the road and pretty far from home. So I called up Chapel Hill Tire right away, and Brad helped me figure everything out, right there on the phone, even though I couldn't make it to their shop. He helped me get enough water in it to limp it to a garage that he found, and they got it replaced for me right after that."
Besides that radiator trouble, the car is in excellent shape. "There's nothing wrong with it," says Allison, "The heat still works, the A/C still works, windows still work. It burns a little bit of oil, but that's about it," a condition that she attributes to the excellent, consistent work of the specialists at Chapel Hill Tire.
To celebrate their car's years of faithful service, the Algers planned well in advance, renting out the Rigmore House for the duration of Veteran's Day Weekend. It was a truly unforgettable three day bash, complete with food trucks, an Elvis impersonator, a band, a DJ, and oil change giveaways provided by Chapel Hill Tire.
So how many more miles does the Corolla have left in it? "I think it has a lot left in it," says Allison, "And I trust that Chapel Hill Tire is going to help me keep it running right."
Our congratulations to Allison, her trusty Corolla, and the whole Chapel Hill Tire family that helps to keep it in such great shape!