Dedicated to making himself – and his whole team – better
Hard-working. Positive. Persistent. When you ask Aaron Sinderman's co-workers at our Cole Park shop to describe him, those are the words you're likely to hear.
When Aaron first thought of entering the automotive business back around 2016, he reached out to a friend who worked for Chapel Hill Tire. After learning a little more about the industry, he was referred for a job.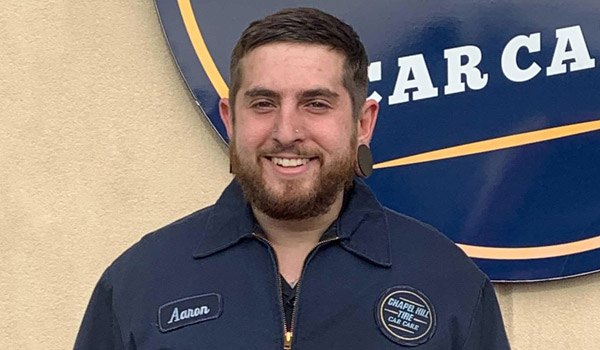 "I've stayed here because I've been able to progress. I started at Chapel Hill Tire not knowing anything. After years of learning and growing, I am now working on being a technician," said Sinderman, who feels grateful for the company's guidance and support. "Chapel Hill Tire has not only helped me grow as a mechanic, but also as a person," he said.
For Aaron, becoming an automotive technician is a good bit more challenging than it is for the average person. He lives with Cerebral Palsy, which affects his muscle tone and movement. But Aaron doesn't allow it to hold him back. He comes in every day ready to work hard and get the job done.
"He's a no-excuses kind of guy," said his coworker and Cole Park store manager Peter Rozzell. "He has a stellar work ethic. He never complains. He takes any job he's given, he gets it done, and does it well."
As Aaron looks to the future, he sees more opportunities for continued growth. Not only does the company provide a clear career path for all employees who want to advance, his co-workers' strong sense of teamwork are a daily source of support. "If there's ever something I don't know, my coworkers are always willing to help," he said. "It's like a family at Chapel Hill Tire, so teamwork is a big thing."
Other than being a trusted and hardworking mechanic, Aaron keeps things positive at the Cole Park shop with his energetic and fun personality. "He's always in a good mood. He's incredibly fun and entertaining and really brightens the team," continued Rozzell.
"I hope I bring sincerity to customers. I'm here to make sure you get great care from a person who cares," he said.
"Strive for excellence" and "we win as a team" are two of our core values at Chapel Hill Tire. We are all proud and happy to hear people tell us that Aaron embodies those values. Thank you, Aaron for all the ways you make this company better. We look forward to working with you for many years to come.