Service advisor at our Durham location
"As a service advisor, you know, we take phone calls. We ask what people need to bring their cars in for, maybe ask about previous work that's been done on the car," says Ben Moore, one of our long-time team members at our Durham location. "But what's really important is that we always make time to have more than just a business transaction with everyone that comes in. We want to build real relationships with people, and I feel like Chapel Hill Tire's values really make that possible for me."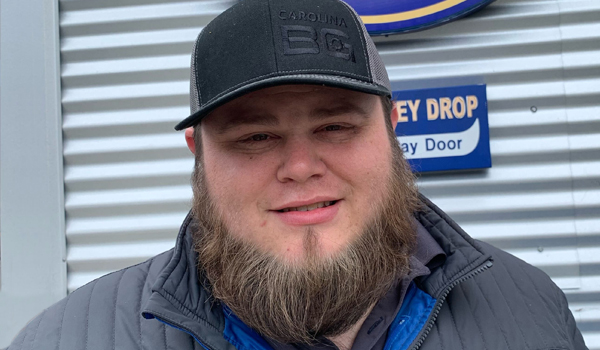 Ben grew up in the Durham area, and worked at a few other shops before making the switch to Chapel Hill Tire. "I've been working here for nearly 10 years now, and I can tell you that I have been truly blessed to find this company. I'm working with a lot of guys that I grew up with, so I'm never dreading Mondays. It's fun coming in to work here, and I feel like I'm just spending the day with my family."
In his decade of work as a service advisor, Ben has come to embody all of Chapel Hill Tire's values — but none more than the value of Striving for Excellence. With the support of his managers, he's constantly setting new goals for himself in the workplace, and pushing himself to be the best team member he can possibly be.
That enthusiasm for striving for excellence has even carried over into Ben's personal life, especially in his role as a coach for a little league traveling baseball team. "I've started taking the same values that we have here at Chapel Hill Tire, and incorporating them into my kids' baseball team ethic. It's amazing how well the kids respond to this, you know? They pick up right away on how following a few values makes everybody's life better, makes us into a better team."
Ben goes on to say that "The one thing that really changes when you start to live by these values, at home and at work, is that a makes a real culture of excellence. Then when you bring somebody new into your team, your family, your life, they get a feel for how things work right off the bat. That changes everything, especially when you compare it to people who don't seem to have a set of values to live by."
And after 10 years of successful work as a service advisor, Ben is looking towards a long and fruitful future with Chapel Hill Tire. "I'm trying to become a manager soon!" He says with a laugh and real enthusiasm, "Only problem is, I really love what I do as a service advisor. But I'm going to take some of the leadership classes that Marc is offering, and use them to better myself both at work and at home."
Like so many members of the Chapel Hill Tire family, Ben has gone the extra mile to embody our values. And true to style, he really sums it up best: "There's nothing better than having a great culture and a great group of people that you know have your back." We couldn't have said it better ourselves, Ben, and we wish you the best of luck with continuing to strive for excellence in your life at home and at work.