Joy Is Always An Option
Meet Bucky Ragan, for over 30 years, he has worked to brighten each customer's day
At Chapel Hill Tire, we've become convinced that happy employees create happy customers. Over the past 30 or so years, Bucky Ragan has done a lot of that convincing. He has greeted each day with a great attitude, and put forth his best effort to leave people feeling happier than when he found them.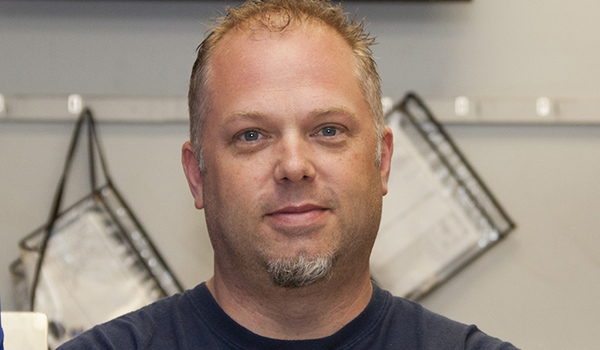 A service advisor at our University Mall location, Bucky followed in his father's footsteps when he began working with us back in 1989. His dad was part of our University Mall team when we moved to this location in 1972.
"It's just all around a good experience working right beside my father," said Bucky. "He's taught me a lot.".
Plotting his own course, Bucky has become a customer favorite by creating joyful interactions with the people we serve. "Not everyone is excited to take their car to the shop. They're already worried about spending money, so I try to put a smile on their face," he said.
"People love him. He knows everybody," said Sean McNally, who works closely with Ragan as the University Mall store manager. "One of the main reasons is that, more often than not, he'll go above and beyond".
A few years ago, a hurricane rolled through North Carolina, and many people feared it would leave gas shortages in its wake. Knowing that an ederly customer was concerned that they wouldn't be able to get around, "Bucky came in at 6am and filled her car up with gas and brought it back to her," said McNally. "He does nice things for a lot of people, but that was over the top."
"He's an honest guy," coworker John Ogburn said. He'll review bills over and over, and if he has any question about a charge, he'll come down on the side of the customer."
Without a doubt, Ragan does his best day in and day out to lift the spirits of those around him. All the while, he feels grateful to have spent the past three decades with Chapel Hill Tire. He said, "They're all great people here. They do what they say they're going to do and take really good care of you. I love the line of work I'm in."
Bucky Ragan goes far beyond just fixing cars and selling tires. He spreads positivity every chance he gets, knowing that a simple smile goes a long way. As we mentioned, here at Chapel Hill Tire we've become convinced that happy employees create happy customers, and Bucky Ragan has surely done a lot of that convincing.