Committed to bringing people together, at work, home, and abroad
If you ever talk with Curt Romanow at our Fordham Boulevard shop, you'll have a world of options in how you carry on the conversation. Curt speaks five languages. He's fluent in English and Spanish, and he describes his Dutch, Greek, and French as "passable." But no matter what language he's conversing in, he finds that "tonality is key" to getting his message across, especially over the phone.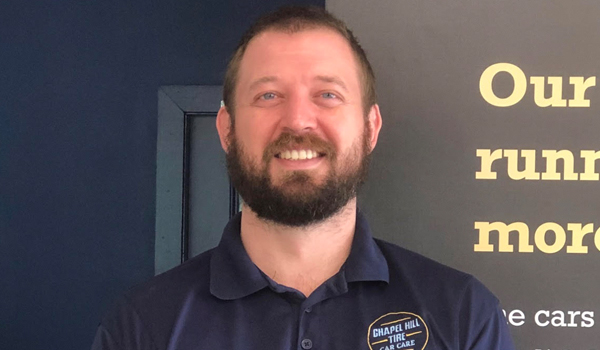 When you call to talk about your car care needs, you'll also find that Curt is fluent in all things automotive. Prior to joining us as a service advisor, he was a Master Mechanic for Mercedes and Ford Diesel vehicles. This professional experience taught him pretty much everything that goes on under a vehicle's hood.
His understanding of the mechanic's job, though, is only half of what makes him an extraordinary service advisor. The other is his deep and abiding interest in clear and meaningful conversation with everyone he meets.
This concern for language and conversation comes from another of his interests: Curt is a world traveller. And before he visits another country, he always makes sure to learn enough of the language to get around on his own. "It's a person's home I'm going to, and I want to respect that," he said.
Whether he's asking for directions in a foreign city or guiding someone through their car care needs in his hometown, Curt believes that every conversation should end on a positive note. "If someone asks for help, you help 'em," he said. "No one wins unless everyone wins."
Here at Chapel Hill Tire, that simple statement sums up three of our core values: win as a team, be grateful and helpful, and say yes to customers and each other.
Listening to the way that Curt talks about our Fordham Boulevard team, it's obvious that he's not the only one who values genuine communication. "We really are like a family here," he said. "It doesn't mean we don't disagree, but at the end of the day everyone takes care of each other."
And just a few weeks ago, Curt's family got a little bit bigger — though this time, not with a new hire at Fordham Boulevard. He's now a proud father, and the entire Chapel Hill Tire family wishes him the best of luck as he starts this new phase in his life.
Thanks for doing what you do, Curt, and thank you for being part of the Chapel Hill Tire team. Your extensive professional experience, desire to provide exceptional care, and genuine concern for others comes through in every conversation.