Our latest apprentice was born and raised in this area, and has big aspirations as an automotive technician
For Jason Silva Rojas, an interest in cars and automotive repair took hold early in life. He got his start like many of us did, holding a flashlight for his Dad while he worked on general maintenance and engine repairs.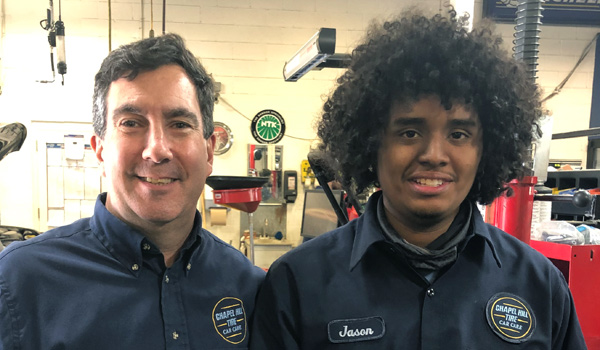 It was only natural, then, that when the time came to start thinking about what he might want to do after graduating high school, Jason turned towards working on cars and trucks. And as luck would have it, a friend of Jason's would tip him off to what would become his next step in life — an apprenticeship program through Wake Tech.
"I'm really grateful for my experience with the apprenticeship program", says Jason, adding that it has been a great way for him to continue his automotive education without having to take on student loan debt.
Especially because he's lived his entire life in the Apex area, Jason was really looking for a way to stay local and still have a genuine career path. When asked about his motivations, Jason responded "I'm really hoping to become a good [automotive] tech."
We're proud to report that he's getting plenty of opportunities to do just that, in his role as an apprentice in our Apex location. While there, he's continuing his education through the apprenticeship program at the same time as he's learning real on-the-job skills.
On any given day, he might be asked to check up on cars, relay information to his fellow techs, do a few oil changes, and then help the more senior techs with hands-on repairs. And because our Apex location is right down the road from the high school Jason graduated from, he gets to see some familiar faces: "It's actually really cool, I get to see some of my old teachers and change their oil and fix their cars."
Jason will be celebrating his one year anniversary of working with Chapel Hill Tire this August, and we're looking forward to continuing to see him grow and develop. That's part of our commitment to treating everyone we work with like family: We want to always be accountable to ourselves, each other, and our communities, and be able to journey and grow together as we pursue excellence in our personal and professional lives.
As for his overall take on the apprenticeship program, Jason is a big fan: "The apprenticeship is a good opportunity for anyone who wants to further their education in the automotive industry. If they're interested in this field, this is a great way to get into it."