Thank you for inspiring us to live our values in every part of our lives.
"I don't just live out Chapel Hill Tire's values at work. I take them home with me, and I live them out in my personal life every single day," said Jess Cervantes.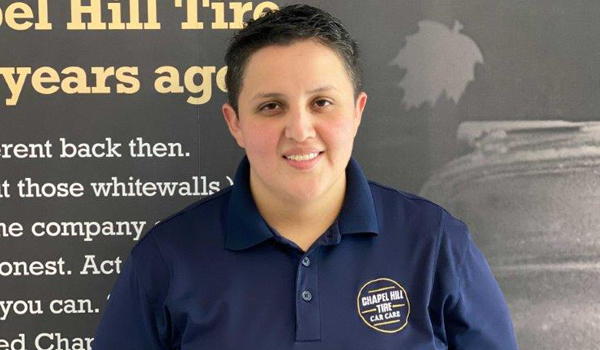 From spending time with friends and family, to enjoying a hike, detailing cars, or just driving to work, Jess consistently treats everyone like family, strives for excellence, and always acts grateful and helpful. She greets each day with a smile and a positive attitude, and shows up ready to tackle any task that comes her way.
As a service coordinator at Chapel Hill Tire, her task list can take her in many different directions! On any given day, she dispatches technical work, builds estimates, orders parts, helps foster communication, and does quite a few other things, as well.
"I wanted to find a place of work that would help me build my future. I was lucky enough to get a chance to work at Chapel Hill Tire, and now I get to expand my knowledge and learn more every day," said Jess.
"I'm the first Hispanic female that is part of the LGBTQ community to work here," she said, "and I love the fact that the company is a family. I've made great friends and feel like everyone is always there to listen and help. Plus, I'm able to relate back to our female customers and other members of the community."
We are grateful to have Jess as part of our Chapel Hill Tire family. Her professionalism, care for others and gratitude inspire us to live out our company values in all aspects of life, just like she does.