Thank you for putting our values to work every day
Here at Chapel Hill Tire, our "Work Happy" culture is based on the idea that happy employees create happy customers, and happy customers create a thriving business. It is a culture we try to create by living our five values:
Strive for excellence
Treat each other like family
Say yes to customers and each other
Be grateful and helpful
Win as a team (and the customer is part of the team)
Although he was sceptical at first, Terry Govoreau was instantly absorbed into the Chapel HIll Tire culture when he began working with us in 2019. "People were talking about values and what they believe in and how it guides them at work, and I was taken aback," he said. "It was unlike anything I'd experienced before. Once I saw it in action, though, I knew this was a place I wanted to be."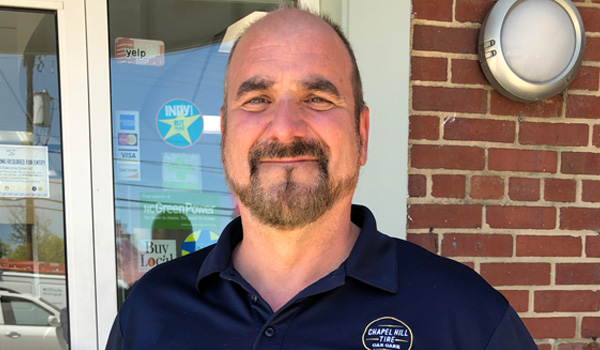 As our Human Resources Director, Terry interacts with employees regularly, getting to know each of them and providing assistance when needed. If an employee is ever seeking help, they turn to him, and he happily works to solve their stressors.
Of all our values, "be grateful and helpful" is the one that resonates most with Terry. Throughout his life, he has been drawn to helping others, and this value is always part of his job.
"It's my job to take on the difficult things that employees find stressful. I'm happy to help so that they have one less thing to worry about. Without fail, every employee that I'm able to help and interact with is so grateful. It's inspiring because I'm really just doing my job. I'm grateful every day that I walk into this place and see the level of care that everyone treats each other with," he says.
Outside of work, Terry enjoys spending time with his wife and two children and cheering on his favorite sports team, the Kansas City Chiefs.
"I know my coworkers will give me a hard time for this, but I love to say, 'I bleed red for the Kansas City Chiefs and bleed blue for Chapel Hill Tire," he said with a smile.
As much as Terry feels grateful to work at Chapel Hill Tire each day, all of us here are grateful to have him on our team. Thank you, Terry, for all you do to help us Work Happy.