Triangle residents join together in a spirit of generosity
After all the chaos and craziness of 2020, we felt like the old year really needed to go out on a wave of kindness and positivity. So, our 12 Days of Kindness campaign encouraged companies and individuals throughout the Triangle to perform random acts of kindness, post them to social media with the hashtag #cht12days, and ask their friends on social media to vote for their favorites.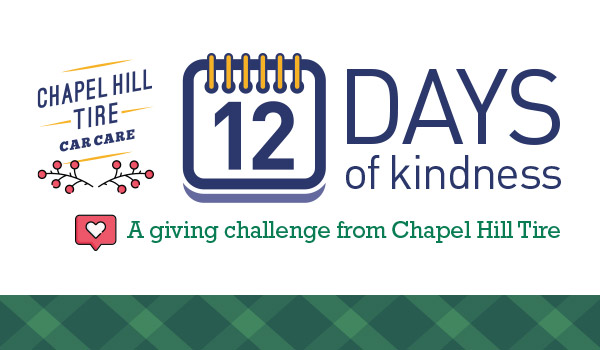 Now, we'd like to offer a big "thank you" to everyone who participated. We have always known our communities to be warm, welcoming, and inclusive, but the generosity and kindness you displayed made us feel exceptionally blessed.
From November 15 through December 24, more than 25 acts of kindness were submitted by individuals and companies throughout our community. With each entry submitted, we were overwhelmed with gratitude and holiday cheer. While all submissions warmed our hearts, a few in particular stood out.
Steve F. volunteered for the Compass Center at Women and Families Safe Homes Safe Lives Program, which provides apartments for survivors and families experiencing domestic violence. The organization has had a greater need for support during the COVID-19 pandemic, and is certainly making a positive, meaningful impact in our community.
One of our University Place customers, who we know as Gonzo, helps to look after residents at the Chapel Hill Homeless Shelter. After speaking with Gonzo, Chapel Hill Tire's University Place team decided to gather supplies, such as thermal underwear and much-needed food items, to donate to the shelter. Their donation helped more than 50 people.
Not to be outdone, our Woodcroft Shopping Center team sent some holiday warmth to the Durham Rescue Mission. They donated more than 100 coats collected from Chapel Hill Tire employees, friends and neighbors, to help meet the Mission's biggest wintertime need.
And over in Wake County, our Atlantic Avenue shop filled a pickup truck up with dog food to feed some furry friends at the Society for the Prevention of Cruelty to Animals shelter.
Multiple people participated in the Lee Initiative, a program that provides food for out of work or underemployed restaurant workers during this difficult time. With the winter months bringing more restaurant closures or limited restaurant seating, this generosity was felt by many in need.
In the 12 days from December 13-24, our participants invited their friends on social media to vote for their act of kindness, so that they could earn a donation from us to their favorite charity. In all, more than 17,400 votes were received. Refugee Support Center finished first, earning a $3,000 donation for their 4,900 votes. In second place with 4,300 votes, Christmas House received a $2,000 donation. And coming in third with 1,700 votes, Compass Center for Women and Families Safe Homes Save Lives received a $1,000 donation.
We expected this to be a lot of fun, and to show everyone that this is just a great place to live, filled with wonderful people. We are truly grateful for the kindness and generosity of our community this holiday season, and we feel incredibly inspired to continue to give back and help those in need.