At Chapel Hill Tire everyone is welcome to learn, grow, and excel
We believe that everyone who chooses to work at Chapel Hill should enjoy a career that offers unparalleled growth, achievement, and meaning. We empower each other through our company values, including our belief that our workplace should be inclusive, caring, and accountable. And for the women who work here, those values translate into opportunity.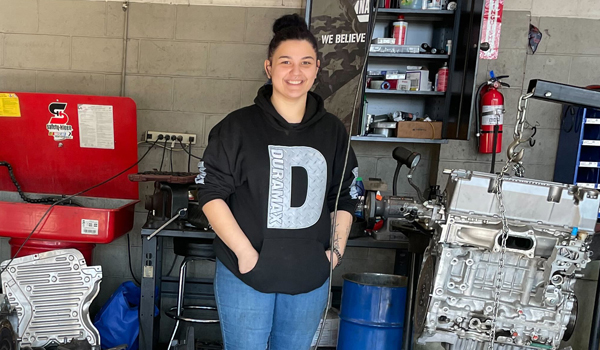 Speaking of our culture of inclusivity, Presleigh Anderson, the manager at our Atlantic Avenue location, says, "Chapel Hill Tire welcomes everyone with no hesitation. I have been treated so well since I started 4 years ago in June, right out of high school. As a female in a male-dominated field, I thought it would be more difficult for me than any other career path. But Chapel Hill Tire changed my perspective on working happily. I feel heard and believe my opinions matter in the company, and there are multiple opportunities for growth and development across the board."
Controller Jaclyn Burns agrees, "Chapel Hill Tire believes that every employee brings value to the company," she said. "No person is more important than another. Every opinion and idea matters. Because of this, I get a chance to listen consistently and I always feel heard. Decisions are collaborative and inclusive, and work is autonomous." All of this, together, makes this company somewhere that she has been happy to build a career for the past 16 years.
Just what is it that makes Chapel Hill Tire such a different place to work? It's all about our people — men and women alike — and the values that we choose to share on a daily basis.
Isabella Aguila, a general service technician at our Atlantic Avenue location, makes this abundantly clear. "I have worked for a few places that post their workplace 'values' on the wall," she said. "Usually, they're just posters that hold no weight. CHT is the only company that lives their values day in, day out, every day. They truly care and treat you as more than a number on a payroll. They treat everyone equally and they are always here for all of us. I wake up every day excited to work and see my team because they are my family."
By striving for excellence and treating each other like family, we open the door to anyone who wants to be part of a team that pushes each other to be our absolute best. As our bookkeeper Lauren Kleczkowski notes, "The work culture at Chapel Hill Tire is incredibly unique. I believe they have captured what other companies strive to achieve. They care about my career and want me to be the best that I can. They don't want to be just 'okay' or 'humdrum' – and it's not what I want to be, either."
Service advisor Emely Bernal agrees. "Chapel Hill Tire is a company that provides a great environment for anyone to work at," she said. "There is so much that you can learn here and there are so many people pushing you to learn. It really makes you want to be the best version that you can be of yourself, especially when you're surrounded by so many people who want that for themselves."
By saying yes to our customers and to each other, we create an environment where everyone can be authentically grateful and helpful. Riz Smith, a general service technician at our University Place location, explains this so well, saying, "For me, Chapel Hill Tire brings something I've never found in a company before – honesty. Everyone here I've met shows up truly and authentically and makes you feel like family. We show up for each other every single day!"
We sincerely applaud the efforts of everyone on our team. Because when we win, we win as a team. As Jess Cervantes, parts coordinator at our Cole Park Plaza location, observes, "This is not a place where we just come to work. We really are a family that helps each other out on a daily basis, on both a professional and personal level. You can always count on someone to lend a hand when it's needed most."
If you know a bright and talented woman who wants a career with a company that values them and wants to help them achieve professional success, please send them our way. We'd love to welcome them into the Chapel Hill Tire family.
As our owner, Marc Pons, has said, "We love having more women working here! The energy they bring to Chapel Hill Tire is so unique. It really builds on itself to create a solid team where everyone can feel like they belong."
Thank you to all of the women – and men – who make Chapel Hill Tire such a special place to work!