When you think of what it means to be a family, what comes to mind?
Life Magazine author Jane Howard said "Call it a clan, call it a network, call it a tribe, call it a family: Whatever you call it, whoever you are, you need one."
Philosopher Friedrich Nietzsche said "In family life, love is the oil that eases friction, the cement that binds closer together, and the music that brings harmony."
And renowned actor and activist Michael J. Fox may have summed it up best: "Family is not an important thing. It's everything."
Taken together, those quotes build a powerful message: That family and love are essential to every aspect of life — and that very much includes the workplace, too.
In our values at Chapel Hill Tire, one of the ways we express that sense of family is through our commitment to Winning As A Team. Just what does that mean? Let our owner Marc Pons tell it best:
"It means that when we are successful, we recognize that everyone contributes equally to the customer experience. Any breakdown from shuttle driver to service advisor to technician creates a bad experience. A great experience means everyone is doing their role and going the extra mile for the customer and each other. So when we are successful, the whole team needs to be recognized."
And most recently, we were able to live that value in a way that helped to further connect our work families, home families, and communities: Through an exciting Family Night watching a Durham Bulls game!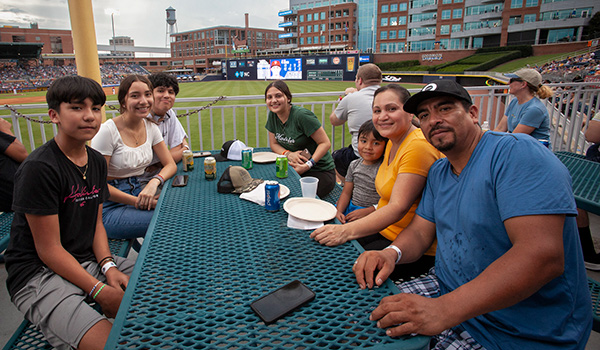 Marc continues: "We also want to make sure that we celebrate in ways that allow people to include their families. Our employees want to share what's special about Chapel Hill Tire with their families. Our team brought out their spouses, children, sisters, brothers, mothers and fathers to the game. We all had a great time together, and that's what winning as a team is all about."
And while the game may have been a blast, it seems that the opportunity for everyone's extended families to get together was the real draw. "Of the three and a half hours we were there, I probably caught about 10 minutes of the game," says General Manager Todd Ward, "and I just loved getting to see everybody together and having fun."
It's this commitment to treating each other like family and winning as a team that keeps our crews together, and it's what motivates us to keep including our customers and communities in that family as well. We strive to share that with everyone who comes to visit one of our Chapel Hill Tire locations, and hope that you'll agree that when you're here, you feel like family.