Chapel Hill Tire's annual giving challenge is a great way to have fun and support local charities
Building on the success of their first 12 Days of Kindness giving challenge in 2020, the folks at Chapel Hill Tire have found ways to make this year's event even more fun, more engaging, and more beneficial to local charities. A new app allows teams to try to outdo each other in acts of kindness. New augmented reality functions add some extra fun, and each Chapel Hill Tire shop has made itself available as a drop-off location, to make it even easier to participate.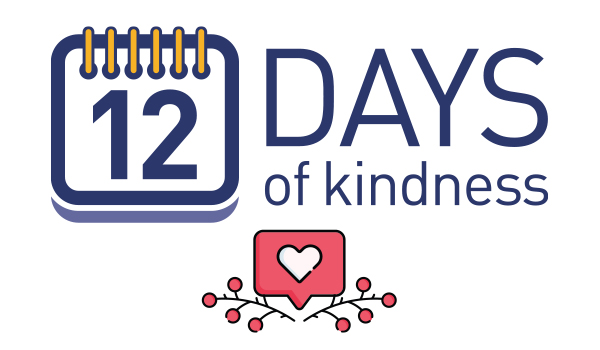 "This is the time of year to come together as a community," said Chapel Hill Tire president and co-owner Marc Pons, "to open our hearts and give to others. That's really what the 12 Days of Kindness are all about. We wanted to create a fun way for people in the Triangle to show just how kind and generous our communities are."
The 12 Days of Kindness is a simple competition powered by an app. Six local charities have been selected as the beneficiaries. Boys and Girls Club of Wake County and Note in the Pocket represent Wake County. Book Harvest and Meals On Wheels represent Durham County. Orange County is represented by the SECU Family House and the Refugee Support Center.
"Each charity will have its own team," said Pons, "and teams will earn points for completing some easy activities and acts of kindness. You can join any team you want and do as many of the activities and acts of kindness as you like. At the end of the 12 Days, the team that has the most points will earn $3,000 for its charity, the second place team will earn a $2,000 donation, and we will donate $1,000 to the charity of the third-place team. Every one of the six charities will be a winner, though. The acts of kindness are donations of items each charity has selected, and teams earn the most points by donating to the other charities. So, the best way to earn the cash prize for your charity is to give the most to the others."
Participation is easy. Just download the OmniscapeXR app from the App store or Google Play, subscribe to our Season of 'Kindness Campaign', pick a team, decide which acts of kindness you'd like to perform, and start racking up the points. The app will show you where to drop off your donations. And it will feature a leaderboard to show you which teams – and which individual players – are in front. Plus, you can use the app to find and collect some really fun holiday-themed augmented reality extras, such as collectable Christmas elves at the drop-off locations and other AR rewards to help add some joy to the season.
"We invite everyone in the Triangle to join us," said Pons. "The 12 Days start on Wednesday, December 8 and run through Monday, December 20. It's going to be a lot of fun, so invite some friends, and let's get together to fill our holiday season with kindness, good cheer, and goodwill."
About Transmira
Transmira, Inc. is a Raleigh, North Carolina-based start-up monetizing Metaverse XR technologies. The company is the developer of Omniscape™, the first blockchain-based XR platform that blends augmented and virtual reality together with a focus on location, virtual goods, and commercial opportunities for brands, businesses, smart cities, and content-creators.