Tires are often "out of sight, out of mind" until an issue arises. However, many drivers do not know where to start when something goes wrong with their tires. Our local auto service mechanics are here to help! There are three places you can look to find more information about your vehicle's tires: the tire information panel, the tire sidewall (DOT number), and your owner's manual. Read on for more insight from the experts at Chapel Hill Tire.
Tire Information Panel
What should my car's tire pressure be? Where can I find information about my tire size?
As the winter weather sets in, drivers frequently find their cars with low tire pressure. Additionally, when shopping for new tires online, you will need to know your tire dimensions. Thankfully, this insight is easy to locate. 
Information about your tire pressure (PSI) and tire size/dimensions can be found in your tire information panel. Simply open your driver-side door and look at the door frame parallel to the driver's seat. There, you will find information about your recommended tire pressure and your tire size/dimensions listed.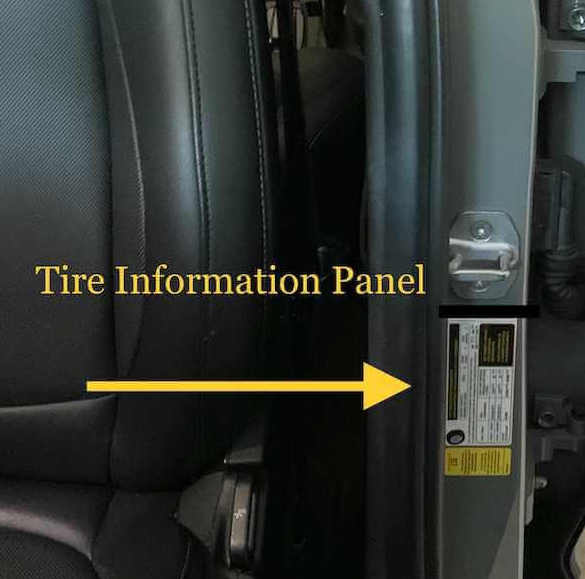 Tire Sidewalls: Tire DOT Number
Where can I find information about my tire age? 
Information about your tire age and manufacturer can be found on the sidewall of your tires. This one can be a little tricky to read, so make sure you have good lighting ready before you begin. Look on the side of your tires for a number beginning with DOT (Department of Transportation).
The first two numbers or letters after DOT are your tire manufacturer/plant code.
The next two numbers or letters are your tire size code.
The following three numbers are your tire manufacturer code. For drivers, these first three sets of numbers or letters are generally just important in cases of recalls or manufacturer issues.
The final four numbers are your tire manufacturing date. The first two numbers represent the week of the year, and the second two digits represent the year. For example, if this number was 4221. It would mean your tires were manufactured in the 42nd week (late October) of 2021.
You can find more detailed information in our guide to reading tire DOT numbers here.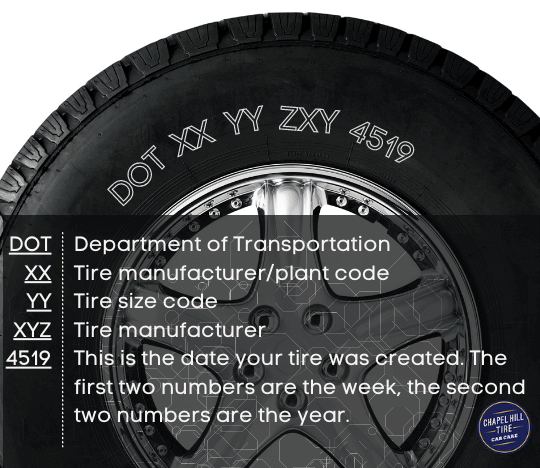 Vehicle Owner's Manual
Finally, you can also find information about your tires by flipping through the pages of your owner's manual or researching your vehicle online. Your owner's manual is often found in the glovebox, and you can use the index to jump straight to the section on tires. However, this is often a more time-consuming process than getting tire information from the sources listed above. Additionally, if you are still having a hard time finding information about your tires, consider speaking with a local tire professional.
Speak With a Tire Expert: Chapel Hill Tire
The professionals at Chapel Hill Tire are experts in all aspects of tires and automotive care. We are here and ready to tackle any tire questions or problems you are having. With 9 Triangle-area locations across Raleigh, Apex, Durham, Carrboro, and Chapel Hill, our mechanics are easy to find near you! You can explore our coupons page, make an appointment here online, or give us a call to get started today!