It is that time of year again: yellow clouds of pollen collect on your vehicle everywhere you go. Not only is pollen an unsightly allergy irritant, but it can also damage your vehicle. Thankfully, local car wash and detailing services can protect your car and keep you Driving Happy™. The mechanics at Chapel Hill Tire are here to unpack five reasons car wash and detailing services are vital during the pollen season.
1) Saving Your Paint Job from Pollen
Have you ever wondered why pollen doesn't fall off your vehicle as you drive? We see pollen as fluffy yellow powder blanketing our cars like snow. However, under a microscope, you will see pollen grains covered in abrasive spikes—as seen in the 3d rendered image below. These spikes serve an essential purpose: helping the particles stick to pollinators as they travel to flowery destinations. Unfortunately, these small spikes also help the pollen dig into your paint job and adhere to the surface of your car.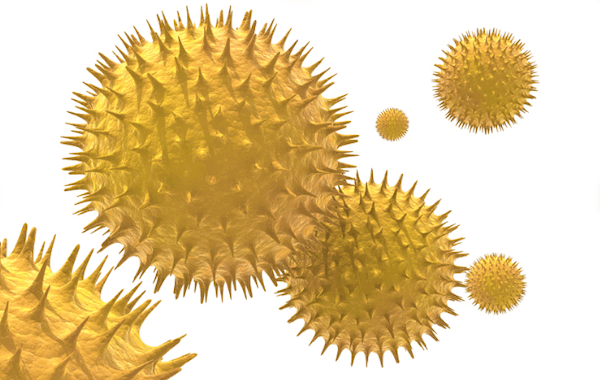 So, can pollen damage your car's paint job? The short answer is yes. The longer each grain of pollen spends digging into car paint, the more exposed your coating will be to oxidation and rust.
It is crucial to get the pollen off of your vehicle as soon as possible. However, it is also essential to wash pollen off carefully. Scraping it off dry can be abrasive to your car paint—doing more harm than good.
Drive-through car washes can also be an abrasive way to remove pollen—especially as the brushes wear out over time. Additionally, these machines can not thoroughly clean your vehicle—leaving pollen sitting on some of the most vulnerable surfaces of your car.
Having a professional wash your car by hand will ensure that it is thoroughly cleaned, dried, and protected from the harm of pollen. Perhaps most importantly, the finishing polish included in some car detailing packages can prevent pollen latching while also providing a buffer between your paint and the pollen on the surface of your vehicle.
2) Protecting Your Car's HVAC
Inside your cabin, your air conditioner circulates a cold airflow to keep you comfortable. This time of year, pollen particles can start to clog up your cabin air filter. Not only does this put your air quality at risk, but it can also damage your car's HVAC system. As it overworks to force air through a blocked filter, the most common side effect is a refrigerant leak.
While you might think a quick and straightforward coolant top-off can solve refrigerant leaking troubles, it is a much larger issue than drivers expect. Why? Your refrigerant (or coolant) circulates within a sealed system. So, if you encounter a leak, there's almost always a crack or break requiring more extensive repairs.
Car detailing services can prevent clogged air filters by removing the extra pollen circulating inside your car. Whether you bring your vehicle to Chapel Hill Tire or we come to you, drivers can also have their air filters replaced during the car wash and detailing service appointment.
3) Breathing Cleaner Air As You Drive
The first site of pollen is your cue that allergy season has begun. Breathing in pollen is almost inevitable when it is circulating through the air and sticking to every outdoor surface—especially your car. According to the CDC, allergic reactions to pollen are caused by your immune system thinking these particles are a threat.
Car wash and detailing services can reduce the impacts of pollen allergies. The detailing element of the service is especially important, as it can limit your exposure in the enclosed cabin and minimize how much pollen you track into your home.
4) Improving Your Summer Gas Mileage
Your car is designed to be smooth, sleek, and cut through the air as you drive. Unfortunately, a coating of pollen can change the aerodynamics of your vehicle. Without a smooth surface, your car will face more wind resistance and lower gas mileage.
Admittedly, the fuel economy effects of pollen are minor, so you might not notice it on the road; however, every penny can make a difference when it comes to spring and summer traveling. After all, why spend more at the pump when you can save gas and drive a vehicle that feels clean inside and out? You can read more in our guide to 5 signs you need a car wash and detailing service.
5) The Look and Feel of Your Car
It is important to enjoy your ride. When your car is covered in sticky and unsightly pollen, some drivers don't feel like themselves. Car wash and detailing services can leave your car shining—helping you Drive Happy. While this principle applies to everyone, it is especially true for the car fanatics in your life—making a car detailing service the perfect birthday, Valentine's Day, Christmas, anniversary, holiday, or "just because" gift.
Local and Mobile Car Wash + Detailing Services
Chapel Hill Tire's new car wash and detailing services are helping drivers through the pollen season. You can add a detailing package to any service appointment, or we can come to you! With our mobile detailing service, we will visit your home or office in any service area, including Chapel Hill, Raleigh, Apex, Cary, Durham, Carrboro, Knightdale, Morrisville, Pittsboro, Wake Forest, and beyond. With four amazing packages and countless add-ons to choose from, you are guaranteed to get the service you need to Drive Happy.
Our mobile detailing service is only available to book through our Apple or Android app. Download the app, book your appointment, and Drive Happy today with Chapel Hill Tire.