When it is time to buy new tires for your car, you might need to locate your tire specs. Thankfully, finding information about your car's tires is incredibly easy. The local mechanics at Chapel Hill Tire are here with insight.
1) Tire Information Panel: The Easiest Way to Find Car Tire Size
What tire size should I get for my car? The easiest way to find your tire size is by checking your tire information panel. The tire size dimension information you are looking for is posted right inside your driver's door. Simply open up your door and look at the frame of your car. There is a sticker placed by the manufacturer to give you all of the information you need about your tires—including the tire size dimensions and recommended tire pressure.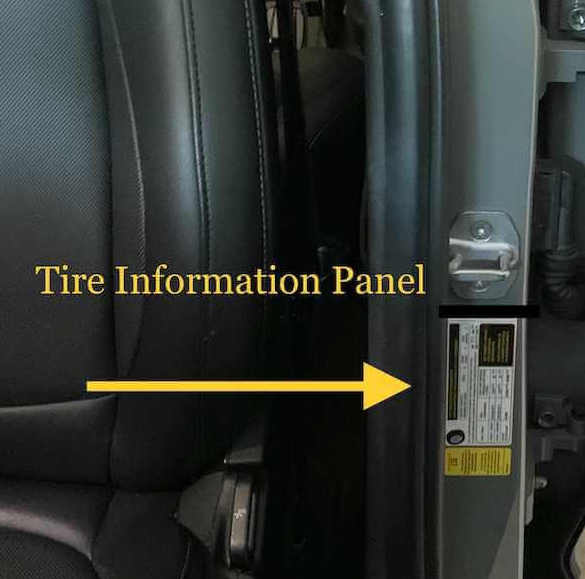 The only time this information will be inaccurate is if you have had the wheels replaced with larger or smaller variants. Additionally, if a previous owner removed or damaged the tire information sticker, it might be unavailable to you. Thankfully, there are other ways to check your tire sizes.
2) Reference Your Owner's Manual
If you have a hard time finding your tire information panel, you can also check your owner's manual for specific details about your tires. The index at the back can help you locate the section on your wheels and tires. Once you find this information, you should be able to view the full details of your tire sizing.
3) Quick Online Search
If you can't find your owner's manual, you can also do a quick online search with your car's model name, year, and trim level for the car specs. Of course, it is not safe to trust everything you read online. However, you can find reliable information by looking for resources published directly by the manufacturers—including insight on your recommended tire sizes.
4) Your Tire DOT Number
Technically, the tire size you need is written on the side of your tires. While the DOT number on your tire does contain size information, it is perhaps the most complicated way to find these dimensions. The second set of characters after DOT is a code for your tire size. However, these codes are often different for every tire manufacturer.
According to the Federal Register, the NHTSA (National Highway Traffic Safety Administration) used to have a universal coding system for tire sizes. Unfortunately, this made it complicated for manufacturers to produce new tires, with each update requiring the NHTSA to update its code list.
To make things easier for both the NHTSA and tire manufacturers, the DOT now lets manufacturers determine their own coding system for tire sizes. Now, you will need to locate both your tire's DOT number and the coding system your tire manufacturer uses to translate these numbers.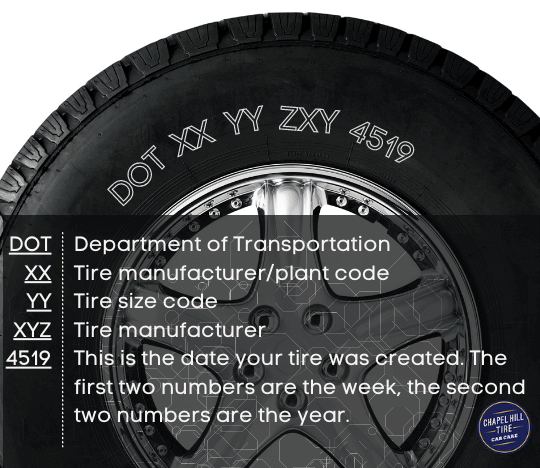 5) Ask Your Local Tire Experts
If all else fails, you can visit a local mechanic (as your first line of defense or a last resort) for insight. Naturally, your local mechanics can help you determine the tire size you need.
They can also help you calculate any difference in tire sizes. For example, if you want to make your tires/wheels higher, lower, larger, or smaller, you need specific calculations to determine how these changes affect your center of gravity, RPM, and other vehicle functions. The best place to start is at your local tire shop.
Local Tire Replacement and Services
When you are due for a new set of tires, you can buy them here online with the Tire Finder at Chapel Hill Tire. This tool will sort through available options—giving you a full catalog of tires compatible with your vehicle. You can then compare these tires by their pricing and features until you find the right ones for you. Once you find your perfect tires, you can buy them online and schedule your service to have them installed at your nearest Chapel Hill Tire.
Our local mechanics proudly serve the greater Triangle area with 9 locations across Apex, Raleigh, Chapel Hill, Carrboro, and Durham. Our professional mechanics also commonly serve surrounding communities, including Knightdale, Cary, Pittsboro, Wake Forest, Hillsborough, Morrisville, and beyond. We invite you to make an appointment, browse our coupons, or give us a call to get started today!