West Franklin Location
Address
502 W. Franklin Street
Chapel Hill, NC 27516
Hours
Monday: 8:00am-4:00pm
Tuesday: 8:00am-4:00pm
Wednesday: 8:00am-4:00pm
Thursday: 8:00am-4:00pm
Friday: 8:00am-4:00pm
Saturday: Closed
Sunday: Closed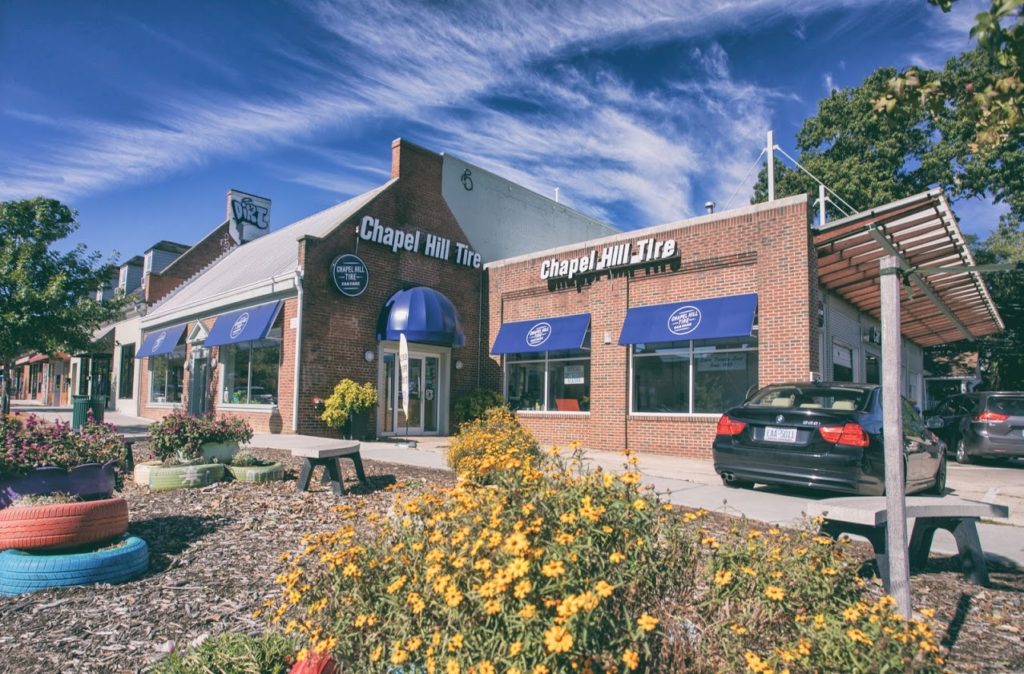 Chapel Hill Tire does not stop with tires. Whether you drive an import or domestic, Chapel Hill Tire is recognized as the top repair shop in the area for automotive service. Chapel Hill Tire has ASE-certified professionals who undergo constant training to keep current on all makes and models of vehicles.  Lexus service, Honda service, Tesla service, Toyota service, Volkswagen service, Ford service, Chevrolet service, you name it, Chapel Hill Tire can help you get in and out and back on the road.
If you are wondering where to get your car serviced in Chapel Hill, Chapel Hill Tire has got you covered!  From a simple oil change to a comprehensive 30,000/60,000/90,000 mile scheduled maintenance service, Chapel Hill Tire has the technicians and state-of-the-art equipment to service your vehicle.
How Chapel Hill Tire on West Franklin Street Offers Leading Local Car Service
Our local mechanics provide industry-leading service for our customers. We keep up with the latest conveniences by offering mobile payments, easy online scheduling, revolutionized online tire buying, and world-class amenities. For instance, if you do not have time to visit a mechanic, our experts can come to YOU! The Chapel Hill Tire pick-up/delivery specialists will bring your car back to our location for service. Once it is ready to go, our experts will deliver it back to you! (Please note: vehicles must be in drivable condition to qualify for our pick-up/delivery services.)
Chapel Hill Tire offers additional conveniences, like free loaner vehicles for extended car care and shuttle services for nearby access. Perhaps most prominently, you can access next-level ease by finding all of the services you need in one place. For example, you can have your oil changed, your car washed, detailed, and inspected—all in a single visit!
Local Mechanic Services We Offer
We strive to offer the best mechanic service in Chapel Hill. Chapel Hill Tire on West Franklin offers the following vehicle services:
Specialized EV Services (including Tesla)
Tire Rotation
Hole Patching Service
Free Tire Inflation
---
Chris Whitehead, Franklin Street
In his 20 years on the job, Chris Whitehead has seen Chapel Hill Tire's dedication to customer service tested and proven over and over again. He believes that Chapel Hill Tire's strongest asset is our commitment to doing what is right, whether that means our adaptation to green technology like hybrid cars and environmentally friendly oil or our offer of quality extended warranties. He trusts his friendly, outgoing employees to act with that integrity at all times and give customers the high-quality care they deserve. That care is the reason that Chris has enjoyed long-term relationships with both customers and staff — the relationships that make Chapel Hill Tire feel like not just a business, but a family.